Role-Playing with Dices
Dices are a fun and easy option that ALL members should use while role-playing. They provide an outcome for specific objectives. There are 3 dices that are available: Pup Dice, Hunting Dice and Attack Dice. This dices provide different out comes which make role-playing much more exciting.
Rules with Using Dices


Do not 'Over Do' dice rolls. This means that if you just went hunting and the dice says "You caught your prey" you cannot immediately go and catch another prey straight after that.

NO 'Redos'. If you don't get the outcome you want, then it is just bad luck. Role-playing the option you didn't want is a good way to boost your creative skills.

The Attack Dice is ONLY for wolves who have come across a Fire Clan wolf AND have an Element. If you do NOT have an Element, then try moving around the Fire Clan wolf stealthily. If you are spotted, you must flee from the quest/journey unless you have certain items that can stop that from happening. If you DO have an element, than you are able to use the attack dice.

Where do I find the dices?The dices are easy to use and can be found at the bottom of your text box. Dices cannot be used when creating a Topic. Below is a step by step guide to using a dice.


Begin by clicking on the POST REPLY button. Once you have clicked that, it will open up a page that will have a text box and other options below it.

This is what the text box should look like. Below the text box is an area that says Dice Roll. There is a choice tab [Which will say the dices names] and a small text box with a number in it. ALWAYS keep the number set to ONE (1) otherwise you will have multiple rolls [you only need one].


After you have chosen what dice you want to use and written your text in, you can click 'Send' and your post will be made. Below your post will be a message with your dice roll out come. [The message will appear from me as I am set as Dice Master]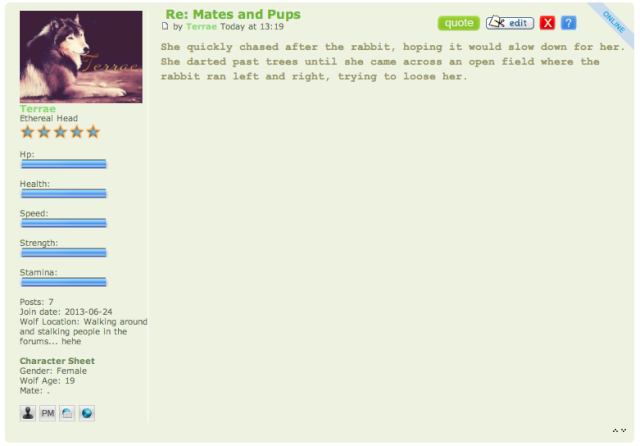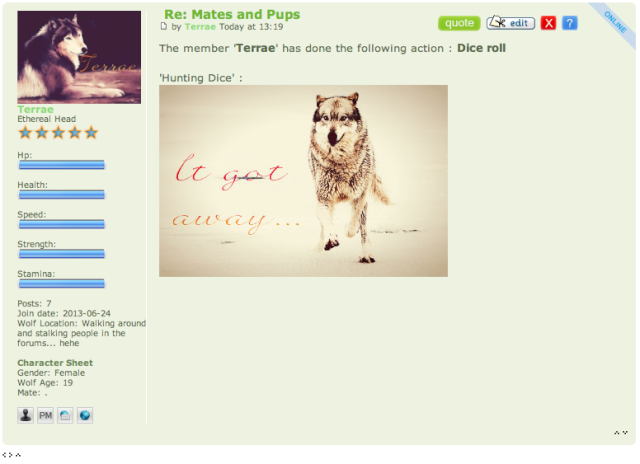 Your dice roll stays on that page and only I [being Admin and Dice Master] can delete it. You can then write a reply to the Dice Roll to show the outcome.
Using the Attack Dice
The attack dice is only allowed to be used against a Fire Clan wolf. If you use it against another member then you will be given a warning. If you continue, you will be banned. The attack dice can ONLY be used by wolves who have an Element. If you do not have an element and you come across a Fire Clan wolf, you must be stealthy and move around it OR you must flee. If you flee your quest/journey will be posted as abandoned [you do not get a prize and it is posted back on the board]. If you do not have an element and are seen using the attack dice, you will be given a warning. The attack dice is there to damage Hp and Health.
Using the Pup Dice
The pup dice is used ONLY when a wolf is pregnant [to know more about this read 'Mates and Pups']. If you wolf is not pregnant than there is no need for the dice to be used. The dice roll determines how many pups you have. The outcomes are all different and you could have 4 pups or less [0].
Using the Hunting Dice
This dice only needs to be used when wolves are hunting. Any wolf is able to use it and it will determine whether you catch your prey or miss it.
What do I do after the 'Dice Master' has shown my roll?
After your roll has been shown, you can then continue role-playing that scenario. Role-playing after a dice roll in NO-way counts as a double post.
I didn't get the outcome I wanted!
What is the problem with that? It doesn't matter if you don't get the outcome you wanted, it is MUCH more fun to post about the outcome you didn't want. Say you were really hoping to catch an elk but the dice roll said it got away; post about how sad and angry your character is about loosing that meal. It will be MUCH more exciting to role-play.
Ethereal Head





Posts

: 183


Wolf Location

: Main Territory Grounds

Inventory
Holding: Dream Catcher Necklace, Offel Broth
Wearing:
WishList:




Similar topics
---
Permissions in this forum:
You
cannot
reply to topics in this forum